Becoming the 'GP of the eyes'
There was a large turnout at 100% Optical for one of the show's main stage presentations, 'Changing optometry for good' by Specsavers and ophthalmology partner Newmedica.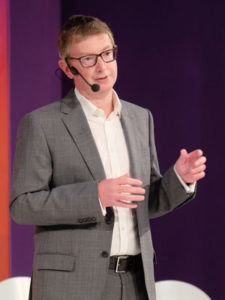 Giles Edmonds, clinical services director at Specsavers, spoke about the increasing threats to optometry, and what should be done right now by the profession.
Highlighting the hospital waiting list backlogs for patients with chronic eye disease such as glaucoma, he said:
'What we are trying to do is deliver the full scope of primary eye care services to our customers. The only way we can retain customers is when people think of eyes and vision, they automatically think of the optometrist and that's where they head, rather than to their computer. We want to work ever closer with ophthalmologists. We want to become the "GP of the eyes".'
Giles was followed on stage by Newmedica managing director Darshak Shah, who spoke about the new models of care that Newmedica is developing to deliver integrated eyecare services for patients and about plans to open more surgical centres across England. He shared how his own experience as an ophthalmology patient had led him to establish Newmedica more than ten years earlier with consultant ophthalmologist Jeremy Diamond in order to 'make eyecare better'.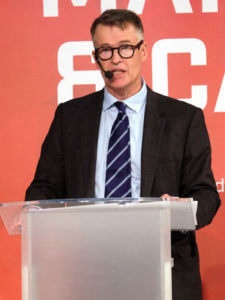 Finally, Newmedica ophthalmology joint venture partner Nigel Kirkpatrick gave his views on the challenges and opportunities ahead.
'For more than 15 years, important bodies in and around the NHS have been raising the issue of capacity constraints in the NHS and the direct consequence on people's vision,' he said. 'Yet there are still NHS hospitals out there with thousands of patients that they cannot see on time. Unless we come together and do something radical and different, this situation will perpetuate, and avoidable sight loss will continue to happen.'
He continued, 'I know, and any other consultant ophthalmologist could tell you, that the overwhelming majority of these cases can be managed and monitored, with the right governance, in clinical optometry.'
Giving examples of how Newmedica is working with the optical profession, he concluded, 'A true collaborative partnership between ophthalmologists and optometrists will ultimately benefit our patients because we will be able to see them more quickly, more efficiently and deliver excellent outcomes.'