The Opportunity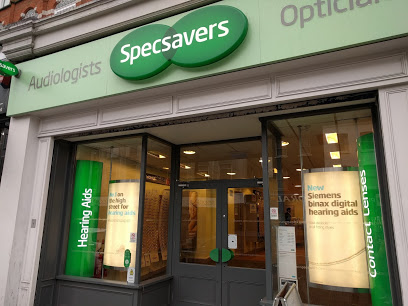 What's on Offer?
50% shareholding in Optical Business and 25% shareholding in the Audiology business
Be your own boss, while still receiving an excellent salary
Share in business profits (dividends)
Grow a business as an investment for your future
Generous holiday allowance
Private health and dental cover
Pension contribution
Flexibility – a great work/life balance
Build and shape your own team
Make a difference to your local community
Access to the best possible clinical technology including OCT
Outstanding opportunities for clinical and personal development
Ongoing support from our leading global brand
Support from existing Retail and Audiology Partners
About the store
Specsavers in Camden first opened its doors in 2000 and quickly established itself within the local community and focal point for Optical and Hearcare services as an Audiology Hub.
The store underwent a future-proofing major refit in 2019 which added much needed test rooms to the store and which has addressed previous capacity issues. The store is now fully "on-brand" with the very latest equipment including auto refractor, OCT.
The store now boasts 4 spacious and well equipped testing rooms and 1 dedicated Hearcare testing room, there is also space for further capacity if required. The store is home to c.20 dedicated, experienced and long standing members of staff, including an exceptional Store Manager.
The store also has a dedicated clinic coordinator that manages and runs the daily clinics exceptionally. There are pre reg optoms being developed in the store, future proofing the business for years to come and there are also plans for pre reg optoms to join the store on a part time basis for the next 3 years.
Specsavers in Camden Town pride themselves in ensuring that every one of their customers receives an excellent patient experience. The high levels of service and patient care have led to strong customer service levels in store,
You would be joining Naveed Nayab who has been with Specsavers in Camden Town for c.15 years years as Retail Director. Naveed is incredibly collaborative and has a strong partner mindset and is really looking forward to gaining an Optometry Partner to help him drive the business forward so that it flourishes for many years to come.
Specsavers in Camden Town is an accredited Platinum Employer. The Platinum Employer Scheme is part of the Specsavers drive to become a famous place to work. Stores with this accreditation have been verified on five key employer standards: Recruitment, Performance Management and Reward, Talent Management, Learning and Development and Employee Engagement.
Store location
The store sits in a prominent position on Camden High Street.  Camden Town often shortened to Camden is only one stop from Euston station and is within easy reach of Kings Cross and St Pancras is well known for its markets. The markets are a major tourist attraction at weekends, selling goods of all types, including fashion, lifestyle, books, food, junk/antiques and more bizarre items; they and the surrounding shops are popular with young people. Restaurants with a variety of culinary traditions thrived, many of them near the markets, on Camden High Street
The area is very well connected by a number of different forms of transport. The markets are located extremely close to the underground and over ground stations, which connects to stations stretching across the city. The area is a hub for London buses, with regular services allowing easy access to other areas of the city and further afield.