£10k Joining Bonus AND £10k Relocation Support available!
Specsavers in Dorchester are looking for a dedicated and passionate Optometrist to become their new Optometry / Ophthalmic Director and Store Partner. This is a fantastic opportunity to live your life in a truly beautiful location, whilst doing the job that you love. There's terrific earning potential, plus you'll have the chance to build a secure investment for your future, and that's additional to the £10k Joining Bonus and £10k Relocation Support provided! To help you to succeed, you'll receive ongoing support from the remaining Retail Partner, our leading global brand and support functions. You'll also have access to the very best clinical technology and will receive unrivalled professional development. If you'd like to find out more about this incredible opportunity at Specsavers in Dorchester, then read on.
The Opportunity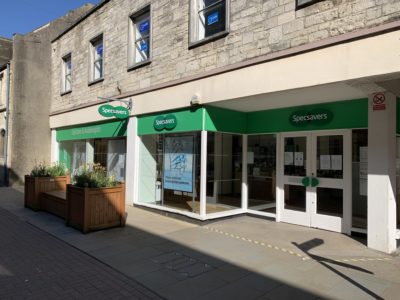 What's on Offer?
50% shareholding
£10k Joining Bonus
£10k Relocation Support
Be your own boss, while still receiving an excellent salary
Share in business profits (dividends)
Grow a business as an investment for your future
Flexibility – a great work/life balance
Build and shape your own team
Make a difference to your local community
Outstanding opportunities for clinical and personal development
Ongoing support from our leading global brand
Support from existing Retail Partner
About the store
Specsavers in Dorchester first opened its doors in 2005. The store sits in a prominent position in the main pedestrianised shopping area and is firmly embedded within the local community. The loyal and growing customer base includes members of the large local retirement community along with the many tourists who visit this charming town.
In 2018 the store underwent an impressive refit and boasts 3 dedicated optical test rooms along with a multi-purpose room – all fully equipped with the latest clinical technology including OCT – meaning you will have everything you need to perform sight tests to the highest possible standards. The rare "horse shoe" layout of the shop floor also means that recently introduced social distancing measures have not had an impact on the customers journey. Specsavers Dorchester also offer Audiology services and is a spoke store to the main Bournemouth Hub.
A team of 12 dedicated and passionate colleagues call this store home. The existing Partner is really passionate about the clinical development of the team, and as the new Optometry Director you would have the scope to advise on training requirements, introduce new specialisms and build/shape the team further as required.
Store location
The store is located in the beautiful town of Dorchester, known for its rich culture and history – perfect for people looking to escape to the country. Based in the heart of Dorset, Dorchester is just 7 miles from Weymouth and 30 miles from Bournemouth, meaning you are never far away from award winning beaches!
What We Are Looking For
Alongside being a qualified and GOC registered Optometrist with the drive, passion and willingness to maintain the customer-focused culture and the high standards of this successful store. As the new Optometry Partner, you'll be able to provide a unique blend of customer care and professional excellence. You'll be able to build a rapport with the existing team, demonstrate excellent attention to detail and possess an ability to build strong relationships within the local community.