Taking Risks: How the risk paid off for Rheannon Santamaria
Before moving into HR, Rheannon was predominantly in learning and development roles,
including activity such as coordination, facilitation, training content design and
implementation and management of learning management systems. Enjoying all aspects that
these roles encompassed, Rheannon knew that for her progression, she needed to specialise
in one of these key areas and she really couldn't see herself doing any of these long-term.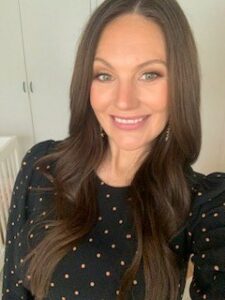 As an L&D Specialist at a large retailer, Rheannon was responsible for managing the
merchandise development program and during this time she gained more exposure to
generalist HR. "I knew I had found my calling but didn't have any experience in generalist HR, I
was at a crossroads", she says. It is at this point Rheannon followed her ambitions, sought
advice from her manager and mentor, who of course supported and encouraged her to reach
out to the HR Manager to see if she could shadow the HR generalist in her team.
"I knew I couldn't move straight into an HR specialist role given my limited experience, so I
took a risk and applied for a role which was a pay cut and deemed to be a step back in the
corporate ladder to take on an HR Coordinator role," she says. The risk paid off for Rheannon
as she quickly moved into a HR Advisor role and 5 years later, enjoying her role at Specsavers
as our Senior HR Business Partner.
Rheannon's journey continues to be one of success. Now you may ask her what success is to
her and put quite simply, success for Rheannon is finding work life balance, joy and fulfilment.
So how does she find work life balance, complete with joy and fulfilment?
Just prior to Melbourne's first COVID lockdown, Rheannon started with Specsavers in a HR
Business Partner role. Not long after, she then took on the biggest role of her life, being a
mum! However, whilst on maternity leave, an opportunity for a Senior HR Business Partner
secondment became available that supports a portfolio of the business that she had on her
development plan. Being too good an opportunity to pass on, Rheannon was successfully
appointed into the role, returned back to work six months earlier than she expected and
having her daughter only being 6 months of age. Fortunately for Rheannon, Specsavers
enabled her to work 4 days per week, gradually increasing her days whilst having the benefit
of a hybrid approach working from home or the office. Sounds like her work life balance has
been ticked off.
So where does she get her joy and fulfilment?
'I love the family like culture, connectedness to our communities and knowing indirectly I am
supporting others who change the lives of people through improving eyesight and hearing",
she says.
Rheannon also stated that she loves to work for an organisation who truly has people at the
heart of everything we do, it's vital to her feeling fulfilled in her role. That along with being
empowered to challenge the status quo and working for an organisation who strives to be
the best by providing a supportive ecosystem for sustained success and growth for all.
Calling on Rheannon's sound advice to have a long-term fulfilling career at Specsavers is hard
to summarise in one sentence. Sharing her tips may just be the precursor to steer change or
it may just help you get unstuck. "Specsavers have an incredible learning and development offering 'I encourage all to take advantage of the offer and utilise your professional development hours," she says.
"I have always put my hand up for stretch opportunities even if they are outside my comfort
zone, either leading projects or asking to shadow peers or those above me to broaden my
experience".
"I believe having a curious mindset and asking questions along the way has helped me get to
where I am today", she says.
"Reach out to your network, your manager, mentor or L&D/HRBP as they may be able to help
provide you coaching or point you in the direction of tools which may help you identify how
you can continue to grow and develop".
Lastly, "Don't get caught up in a title, taking lateral moves is also progression, although it may
not seem like it at the time" and "be open to take risks, be vulnerable and say yes to stretch
opportunities even if they are outside your comfort zone". Just like Rheannon did and
continues to do.