The Specsavers Partnership model – simple truths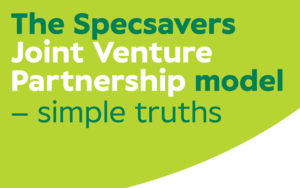 We provide unparalleled support and training
Specsavers has a massive business support structure built into the partnership model with most people surprised to discover our support team is close to 600 strong, with more than 450 individuals located in Port Melbourne alone, and the rest in various field office locations across both Australia and New Zealand. We work together with our JVPs to provide the highest levels of technical and professional support, product range, marketing, payroll, recruitment, optometry equipment and more. Specsavers' training and professional development activities are unrivalled in optics, for both optometry and retail / dispensing professionals. Through Specsavers' Pathway and Partner in Development programs, talented individuals with a sense of ambition have the opportunity to achieve a partnership role.
We help partners to achieve stability, financial outcomes and work-life balance
All Specsavers JVPs receive a guaranteed market-rate base salary package for the lifetime of their franchise agreement. This is in addition to quarterly and monthly dividends generated by their business profits. Additionally, all partners receive five weeks of annual leave.
We offer a low-risk investment to new stores
An initial partnership loan of $10,000 is paid by incoming partners to get started in a brand-new store and is paid back to thee partners once cash flow allows. Store shop fits are 100% funded by Specsavers as franchisor partner, meaning partners do not need to go to the bank for business loans. Each Specsavers JVP store is an individual legal entity – for each store established, a new company is formed for which shares are issued to the JVPs.
We are on a mission to 'Transform Eye Health'
The rollout of OCT technology underpins our mission to transform eye health outcomes in both countries. And the allied investment in local area, ophthalmology-led training programs means that Specsavers optometrists are working to continuously improve detection and diagnosis rates across a range of eye conditions and diseases such as glaucoma, diabetic retinopathy, AMD and more. Resulting data-sets and a program of sharing evidence with government and eye health stakeholders allow Specsavers to present and prove the value of optometry on an entirely objective basis in both publicly funded and un-funded environments.
We want our partners to see continuous improvement and growth
Collaboration and working together are major factors in the Specsavers partnership model. Once every quarter, a series of communication meetings are held in key cities throughout Australia and New Zealand for all partners to attend. Led by Specsavers' senior support team, these meetings cover critical topics of interest to store partners – including best practice, retail advancement, upcoming marketing initiatives and implementation processes. These meetings, along with clinical, partnership and dispensing conferences, provide partners with an excellent forum for best practice networking with other store partners and support office members.
We are a franchise partnership with a family feel
Back in 1984, husband and wife team Doug and Mary Perkins, both optometrists, opened the very first Specsavers stores under the fledging JVP model. Today, more than 2,000 of our optical and audiology stores are open and operating in 10 countries. And although the scale of the business has grown dramatically over time, the core focus of supporting owner-operated optical and audiology professionals to build successful businesses remains intact.
For further information on the JVP model, please contact Maria Savva, Partner Recruitment Manager Australia & New Zealand on 0401 353 587 or maria.savva@specsavers.com