A day in the life of a Specsavers audiologist with My Phuong Lam
/>How does a typical day in your work life begin?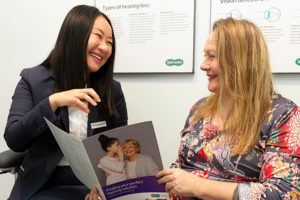 typical work day for me begins with checking emails and participating in team huddles. This is where I discuss positive customer stories and share how we are faring in relation to screenings conducted, hearing checks booked and audiology handovers as part of the three-way handover.
How does the rest of the day play out and what are some of the customers you might come across?
The day is filled with a variety of appointments, and when I can, I try to prioritise conducting hearing checks as part of a customer's in-store journey if they are flagged as having a significant loss.
I've had a mix of government and private customers but have noticed there are more customers thinking about addressing their hearing health at an earlier stage. They've mentioned that it's because of the convenient eyes and ears health checks and affordable transparent pricing guides offered by Specsavers, alongside being mentioned by the independent consumer advocacy group, choice.com.au.
What could typically be a challenge in any given work day?
A challenge for me has been ensuring that all team members across the three stores are effectively trained to answer audiology questions and assist existing hearing aid users with their concerns.
What are some of the best parts, or highlights of your work day?
I always enjoy it when a team member comes up to me and tells me they've successfully helped a client with their hearing aids or hearing health query. It can be something as simple as changing a wax filter, but the smile that I see on their face highlights to me that they feel part of both the optical and audiology families.
What do you do in between appointments?
Between appointments I try to book hearing checks in, answer phone enquiries, conduct post fitting follow ups or touch base with team members on the floor.
How do you finish up your day? Do you do anything to prepare for your next day in the store?
I check that all outcomes are completed for my customers on the day and check that all matters in the morning huddle have been actioned. If I know I'll be in another store, I check with the team that they're aware of their duties for the rest of that week.