Why I joined – James Darwin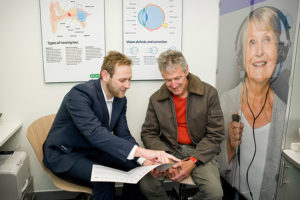 Tell us a bit about your background.
I graduated from Flinders University with a Bachelor's Degree in Health Sciences and Middle / Secondary teaching. I practised as a teacher for one year, observing firsthand how hearing and auditory processing impairments could have a profound effect on educational outcomes, social wellbeing and confidence. This was the catalyst that led me to study and complete my Master's Degree in Audiology at Flinders University, and I have been practising as an audiologist for the last four years.
Thinking about previous roles and years in the industry as a backdrop, what prompted you to join Specsavers?
Specsavers provided the opportunity to affordably start my own business in a way that was consistent with my personal values and beliefs. The Specsavers model has a real customer-centred focus that emphasises on doing what is right by the customer. This ideology ensures that Specsavers prioritises providing the best value hearing care and highest clinical standards. I am a firm believer that one's financial status shouldn't dictate access to required vital health care services, and the Specsavers model helps makes this service more accessible to everyone.
Why is a Joint Venture Partnership (JVP) with Specsavers a good model for audiology?
The Specsavers JVP model allows you the freedom to run your own business but without much of the financial risk associated with this. It also provides a fantastic induction program and support network that prepares you for operating your own business, and strategically partners you with optical store/s that have great local knowledge of the area and an established customer database.
Having joined, can you describe your thoughts about Specsavers Audiology and the role the group will play in the industry?
Specsavers Audiology will impact the audiological industry in many ways. Firstly, it is making audiological services more affordable and accessible and it provides convenience to customers in allowing them to have their optical and audiological needs serviced in the one location. The hearing screening program and testing all customers aged 40 and over also helps to identify hearing loss earlier, leading to earlier intervention and the benefits associated with this.
What is Specsavers Audiology's approach to professionalism and clinical practice?
Specsavers has a no compromise outlook when it comes to professionalism and clinical practise. This is evident when you analyse the appointment structures and see what is included as standard. I think it really comes back to Specsavers basic ideology of doing what is right by the customer and providing high quality services and care is essential to this.
What would you say to audiology professionals considering a JVP with Specsavers?
I would highly recommend it, it's been very rewarding building a business from its grassroots. At times it has certainly put me out of my comfort zone, but this has helped me to grow as a clinician and a person. I've met some great people on this journey and the staff has become like a second family.