One year on – Michael Feetham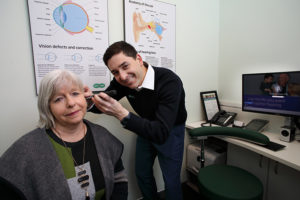 A year into your Specsavers journey, how are you finding the customer response to your business?
It has been a really positive response from the customers I have seen so far. Customers are impressed with the level of service and convenience of being able to have their eyes and ears looked after by the same company. Also, customers who have bought hearing aids in the past or who have been given a quote by competitors are simply blown away by our prices in comparison. They have also been impressed with the extensive product offering from the different brands we stock.
What have been some of the biggest highlights?
Watching the business grow at a much faster rate than I ever imagined would have to be pretty up there!
What, if any, have been some key challenges you've faced?
There's definitely been a lot of challenges in my first year and I certainly wouldn't say my first year as a business owner has been an easy one. There's been SO much to learn – new products, learning the administration and finance side of running a business, working with so many more staff than I used to in my previous role – I could go on for ages, but most importantly, there has not been a single time in the last year I have ever questioned my decision to change to Specsavers Audiology. The challenges have been well worth it.
What are the most noticeable differences you've noticed in the past year with Specsavers compared to previous years in the industry?
Personally, I am a much happier audiologist. I am learning new things every day, and I actually feel comfortable recommending our products due to their affordable  prices which I never did in the past.
Why did you initially join Specsavers? Have your feelings changed a year into your journey?
Before Specsavers Audiology came to Australia I was frustrated with the way the audiology industry was operating, I felt there was a lack of customer focus and a lack of transparency. I am proud to be aligned with a company like Specsavers, because we are genuinely trying to change things for the better and put our customers first.
What would you say to audiology professionals considering a joint venture partnership (JVP) with Specsavers?
If you have dreams of owning your own business and helping to make a positive change in an industry which needs it, then speak to Specsavers – I'm so glad I did.