Specsavers extends ADONZ Conference sponsorship to Cert IV students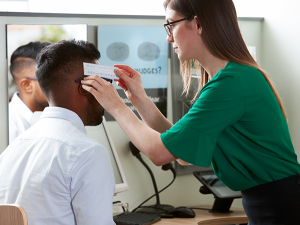 Continuing its support of the ongoing development of optical dispensers in New Zealand, Specsavers will once again be working closely with ADONZ as a platinum sponsor of the association's annual conference.
This year, the ADONZ Conference will be held at the Napier Conference Centre from 1 to 3 November. The conference will include presentations on myopia control, glaucoma, dry eye, and education from the Australasian College of Optical Dispensing. Among the speakers are the president of the Association of British Dispensing Opticians, the president of the International Opticians Association, an ophthalmologist, an orthoptist, and representatives from the Blind Foundation and the New Zealand Optometrists and Dispensing Opticians Board.
"I am delighted that Specsavers have given their support to our annual conference," commented ADONZ President Donald Crichton. "Platinum sponsorship assists in enabling ADONZ to host a graduation event at no cost to the participants. Another aspect to Specsavers' support is that they do not hold a Specsavers Dispensing Conference in New Zealand, choosing instead to support and attend the ADONZ Conference. This highlights the group's commitment to whole-of-market dispensing advancement."
Funding for students
In addition to the sponsorship, Specsavers is offering a number of optical dispensing students the chance to win financial assistance to attend the event. The initiative is open to any optical dispensing student located in Australia or New Zealand, and funding will be provided towards conference registration and travel expenses.
This is the second year in which Specsavers has held the initiative, with 15 dispensing students being sponsored to attend the ADONZ Conference in 2018.
Richard Couch, Head of Ophthalmic Lenses and Dispensing Advancement for Specsavers Australia & New Zealand, stated, "This initiative cements our commitment to the continued education and development of our optical dispensers. The ADONZ Conference is one of the biggest and most well-respected events in the New Zealand dispensing calendar, and we're delighted to again be able to provide support as a platinum sponsor."
Donald added that the ADONZ Conference offered more than just professional development. "I believe that the conference allows attendees not only the opportunity to gain CPD points but to engage with colleagues to share experiences and re-ignite friendships," he said. "For students, it shows them they are entering a profession that is engaged and committed to further education."
Optical dispensing students interested in attending the ADONZ Conference are encouraged to contact Hayley Bendall via hayley@adonz.co.nz for further details on how to enter.
More information on the conference is available via the ADONZ Conference website.