Designing her own career with Specsavers
A passion for helping others grow is what led Specsavers' Learning Design Manager Michaela Cassidy to her current role.
Michaela, who joined the business in 2008, has spent the past 12 years designing and delivering training to ensure Specsavers team members have the skills they need to develop their careers.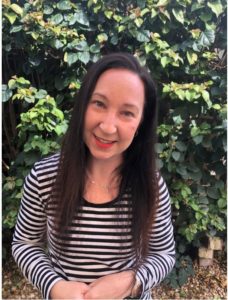 "I have a degree in Psychology and I've always had an interest in learning – ever since I worked as a part-time crew trainer at McDonald's when I was at school. I've always loved the idea of helping others to learn and grow."
Michaela says she joined Specsavers in its infancy when the brand was new to Australia and reasonably unknown. "At the time, Specsavers was recommended as a good employer from someone I trusted, and they were offering me the opportunity to build a career in my chosen field, which is exactly what I've gone on to do."
Michaela's first role was working in-store, where she learned about the optics business from the ground up. From there, she moved to the support office as a Training and Development coordinator. She soon advanced into the role of Retail Training Manager.
"This role gave me the ability to learn more about facilitation, coaching, and truly understanding our retail business. I then moved into a systems and process role, designing and facilitating systems and process training, before moving into a broader learning design role and eventually moving into my current role as a Learning Design Manager."
Along the way she was supported to develop her own professional skills, undertaking a Certificate IV in Training and Assessment, as well as a Diploma of Design and Development.
Michaela says an average day in the Learning and Development team is always varied.
"There are lots of meetings, and we kick off every day with a WIP, so we know who's working on what and who needs support. From there, I could be meeting with stakeholders to understand a problem or challenge in stores that may require training support. I might join a brainstorm with the Learning Design and Digital Design teams for a new resource or program we're creating, or I might even be designing a resource myself – anything from a video to an eLearning module to a PDF to a workshop."I also spend one-on-one time with my team, working through any problems or ideas that they have, or managing the requests coming in from across our departments. And if it's a Tuesday  afternoon, I'll be doing the weekly quiz with my team, or Thursdays I might be doing our weekly team crossword!"
Michaela says it's not just the work that keeps her going – it's also the culture and environment that Specsavers delivers.
"Every day of the past 12 years I've felt supported and encouraged, and I've been rewarded with new opportunities. I love that we get to be creative – things are changing constantly in our stores and we're always looking for new ways to upskill our teams rather than doing the same thing over and over. Most of all, I love that I get to help the teams in our stores give our customers a great in-store experience."
And the hard work of Michaela and her team of five L&D designers has come into the spotlight recently, with the Specsavers L&D team winning seven Platinum awards in the 2020 LearnX Awards.
"It was so great to be recognised this year. We've been focused during the past six months on supporting our teams to operate in a COVID-safe way and ensure our store and our support office are COVID-safe environments, which has required ongoing training and support. Getting our team upskilled and ensuring both our team and customers are safe has been very rewarding," Michaela says.