Culture, motivation and sticking to her moral compass: how Carly Parkinson is supporting Specsavers' recruitment mission
Seven-year itch? Not for Carly Parkinson, Specsavers' Head of Partner Recruitment and Specsavers Recruitment Services (SRS). While she might be celebrating her seven-year anniversary with Specsavers this week, for Carly, it's been a case of "time flies when you're having fun".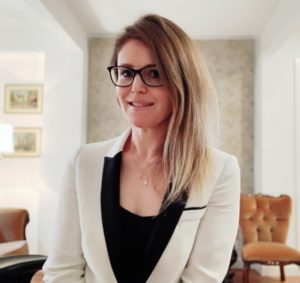 "It certainly does not feel like I've been with the business for seven years. I've been fortunate to have had the opportunity to progress through a number of recruitment roles and take on the accountability of leading larger teams while working closely with our store partners, team members, and support teams," she says.
"I think we've all woken up in the morning and found ourselves in a job where we want to hit snooze. But this isn't one of them. I wake up in the morning knowing that I'm supported and empowered to make a positive difference. Recognising that our recruitment effort supports the bigger picture of ensuring that more Australian's have access to quality and affordable eye health is my motivation, and the challenge of ensuring that stores are resourced to provide the operational efficiency and level of service that our customers have rightly come to expect is what drives the Professional Recruitment team"
Carly leads Specsavers' professional recruitment teams, which provides 360-degree recruitment solutions for the more than 400 Specsavers stores across Australia and New Zealand. This includes sourcing Joint Venture Partners in the retail and optometry space, as well as employees (optometrists, store managers, supervisors, dispensers, optical assistants) and locum optometrists.
By the time she joined Specsavers, Carly had already gained experience on both sides of the franchise relationship, firstly as a franchisee and then working for a franchisor.
"My first role involved a lab coat, goggles, and Bunsen burner – however, my science background gradually led to a career in operations and recruitment, with franchise experience both as a franchisee and also working for a franchisor," she said.
"I knew first and second hand, how hard franchisees work in and on their business to achieve success and provide a better future for their families. Having my personal values align with those of the business I work in is of utmost importance to me and the way that Specsavers looks after its Joint Venture Partners, team members and patients have meant that my moral compass has never veered off track".
"I remember interviewing for the role of Partner Recruitment Manager and learning of the benefits and support offered to franchisees (Joint Venture Partners within Specsavers). And I was like "Whoa let's back up a second…. you're telling me that Specsavers franchisees are guaranteed a salary, are not required to secure their own loans and can invest into profitable businesses with an initial investment from as little as $10,000…  These are benefits that are essentially unheard of in the Australian franchising sector. A company with strong values and level of support for its people and customers provides me with the motivation to want to 'pay it forward' and bring more like-minded people into this fantastic business, whether that be future Joint Venture Partners, optometrists, or retail team members," she says.
An average day for Carly is varied and busy.
"Providing 360-degree recruitment for 400 stores involves a lot of meetings! Multiple stakeholders and a high-volume portfolio can require solutions that are complex in nature. Regular strategic review, an outside the box mindset and constantly challenging your thoughts and opinions is key to ensuring that service levels are being met and our stores resourcing needs are being supported. My team are the real stars of the show so regular check-ins to ensure they have all they need to deliver in their roles is a key priority of the day," she says.
And there is always something new on the horizon for Carly and her team.
"We are currently rolling out an SRS Locum app, which is diary management and booking tool to assist locum optometrists to easily source work with Specsavers. With the impact of COVID-19 on the job market and Specsavers fortunate position to have 'weathered the storm' with trading as strong as 30 per cent up on the previous year, and we have plenty of locum and full-time opportunities to fill. The SRS Locum App aims to make securing this work as easy as possible for optometrists looking for their next opportunity," she says.
And while Carly has accomplished so much in the past seven years, she says she's most proud of the culture that has developed in her team.
"The Professional Recruitment team has a positive and collaborative culture where team members feel supported, enabled, and challenged to excel in their area, and this is evident in their candidate management and key stakeholder service levels. The level of professionalism, engagement, and resilience demonstrated by the team throughout the recent COVID-19 pandemic is a testament to their strength and character.
"Over the past seven years, I've seen twelve of my team members promoted within the Specsavers business, and as part of our commitment to establishing a great place to work, it's really rewarding to help support their career progression and aspirations both on a local and global level"
You can find out more about Carly's team or explore the opportunities available in our stores here.