How Gabriella Bonanno helps Specsavers share its stories
From big campaigns to working with local journalists, Gabriella Bonanno is responsible for helping Specsavers share its stories.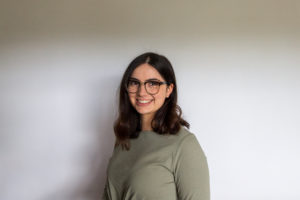 Gabriella, who has worked at Specsavers for just over two and a half years as a PR Specialist, brings a wealth of experience to her role, across a range of different areas of communication.
"My background is varied across marketing, communications, and events. Before Specsavers, I worked for a start-up all-services agency for three years where I gained broad experience across brand strategy, advertising, campaign management, brand activations, content creation, partnerships, and sponsorships. Before that, I worked as a function coordinator at a wedding venue," she says.
"I joined Specsavers to gain an understanding of how a global business works, including the intricacies of stakeholder management and the differences in responsibilities from working agency side. I also knew of Specsavers support and work with The Fred Hollows Foundation and I knew that I was coming into a role that would be working on the partnership and help make a difference," she says.
The nature of PR means that no two days are the same, and that's definitely true for Gabriella and the Specsavers PR team.
"I like to arrange my diary with my list of tasks to get through with the expectation that I will need to shuffle things around to attend to ad-hoc priorities that pop up during the day. I like to start my day by checking news headlines and reading my emails to understand what has happened since I logged off the night before. My work can vary from campaign planning, developing content, and working with our agencies and partners."
She says working in communications, she's quickly become a subject matter expert – across optometry, technology and innovation, eye diseases and conditions and their prevalence across Australia and New Zealand.
"In May, my colleague and I took on a national media relations campaign between us which was around Digital Eye Strain and was so topical during COVID-19 restrictions. We achieved over 110 pieces of media coverage," she says.
And the beauty of working for a business the size of Specsavers means Gabriella is exposed to all kinds of marketing and communication.
"Every team within the marketing department has its own specialty so I really enjoy working cross-functionally with my peers and learning from them and what they do. I enjoy our monthly marketing meetings; they are quite valuable to gain insight into projects as well as learn about new research or our own customer insights which help shape our activities," she says.
"I have a lot of creative freedom when it comes to the execution of a campaign. I am currently planning a virtual event for an exciting new launch next month."
Gabriella says the culture of Specsavers is what makes it a truly great place to work.
"I work in a team of intelligent people and there are always new ideas, healthy debate and as communicators… lots of communication with each other! Everyone is approachable and friendly – it is a positive culture that way. We communicate with our global peers regularly and get insight into what other markets are doing.