Bill Sgubin's journey of learning and development
From motorsport to events to sporting regulation, Bill Sgubin has a diverse list of jobs on his CV.  And it's through these experiences that he's had the ability to build skills in digital, social media, television production, and client services – all of which serve him well in his role as Digital Design Manager for the Retail Training and Development team at Specsavers.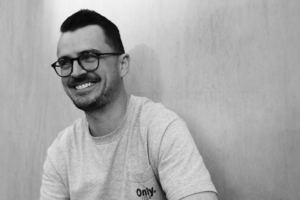 Bill joined Specsavers three years ago, looking for a role that would utilise his skillset in a new way.
"I was looking to diversify my skills in a different industry and to strengthen my leadership skills. I have always respected the Specsavers brand as being a leader in the health and retail space and who doesn't know the 'Should've gone to Specsavers' campaigns! I remember having a fantastic phone interview which set me up for what to expect from the fantastic culture that Specsavers has," he says.
As a Digital Design Manager, Bill and his team are responsible for delivering innovative learning and development tools to support Store team members across the Specsavers business – a role that requires a lot of collaboration and problem-solving.
"My average day usually starts with a coffee and a morning check-in with my team to set up the day. Then it could be anything from a brainstorming session, a project planning or production meeting, or some time on the tools animating and editing video content.
"Since the demand for digital solutions has grown so much this year, due to the impacts of COVID, my team and I have seen our skills stretched across the business to support not just learning for our stores but also retail operations, product, and marketing."
One of the more recent projects he has worked on is an Augmented Reality app for learning based on the Specsavers customer journey.
"I really love playing in the immersive technology space and getting in the minds of our learners to solve problems and support their development.
"The learning space demands that we use a range of digital platforms to ensure engagement. Graphic design, e-learning, video production and web development tools are used daily to create these experiences. We also implement digital tools within our stores to create flexible learning opportunities such as virtual classroom technology which has been extremely handy in 2020!"
Bill says one of the best aspects of his job is the team he works with.
"I am fortunate to work with a talented team with really diverse skillsets. We often set ourselves big challenges to deliver transformation in the learning and development space which always keeps things interesting and ensures personal growth along the way. We strive for our best and we like to have fun while we do it!"
The Retail Training and Development team recently won 7 platinum awards at the 2020 LearnX conference, a true testament to their commitment to delivering top-notch learning to Specsavers store teams.
"Last year we also won three awards for our immersive technology project and I presented at the LearnX conference. That was certainly a milestone moment for me personally. Probably the biggest milestone for me this year was the way our team has worked together throughout this global pandemic to provides stores with everything they have needed to operate effectively in extremely turbulent times. It has been an amazing display of resilience and agility."
Bill says he's proud to work for a business that is committed to development – and especially proud that he has a hand in creating the resources for their development every day.
"Specsavers is a company that is focused on continuously developing its teams and improving itself which makes learning and development a great zone to play in," he says.