Melbourne Support Office do their part for bushfire relief
Specsavers team members are continuing their fundraising drives for bushfire relief – this time with tasty treats at the Melbourne Support Office.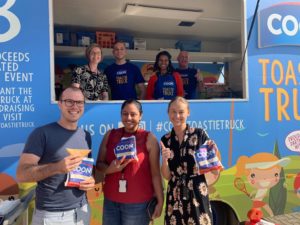 In addition to the funds committed  by Specsavers over the last few months, the Specsavers Support Office team held two fundraising events in January to help raise much-needed funds for firefighters as well as the multiple communities affected by the fires.
From 7.00am-10.00am the Specsavers Audiology team hosted a 'Coon Toastie Truck', where a cheese toastie was on offer for a $3 donation. A few hours later, lunchtime approached and the Business Development Team hosted a Sausage Sizzle in the staff kitchen with snags on offer for a gold coin donation.
The two events raised an additional $1300 for Specsavers charity partners.
If you're still interested in making a personal donation to the bushfire appeals, please use one of the links below: