Hear from Partner James Burch on his Pathway experience
The first module – Leading Self & Leading Change – explored self by opening blind spots to understand behaviour, the most effective principles for time management, and understanding and planning for change.
The participants were joined by James Burch, recent graduate from the Pathway Program, and now Dispensing Partner at Specsavers Morphett Vale who shared his experience and advice to the future Partners taking part in the Pathway Program.
18 months ago, James was working at the Specsavers Rundle Mall store and after six months out of his comfort zone completing Pathway, he became a Partner at Morphett Vale.
"Pathway too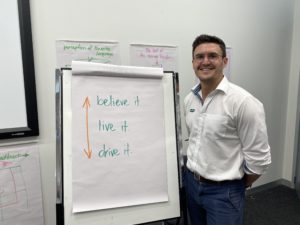 k me on a personal journey that allowed me to grow and develop skills as a leader, it wasn't just a tick box for me," said James.
James' highlight was learning and understanding finance and developing his skills in finance.
James' gave advice about choosing projects, the best way to stick to them and how to make differences. He said, "choose one big thing and a few smaller things to focus on. Think about the things you can control and what you can make solid changes to."
He shared the importance of self-reflection and how important it is to receive feedback, ensuring he regularly took time to stop and think about the things he could have done differently and more effectively.
James said, "Communication is everything between the team and partners". The key is being open and transparent with the team and providing feedback about what you need to succeed.
"Specsavers set you up for success. Although the program was challenging, there is ample support available throughout the journey from support office, other like-minded individuals taking part in the program and from partners in-store," said James.
Pathway is a Specsavers supported six-month course through which experienced Specsavers optometrists, optical dispensers and retail managers prepare to become a Specsavers Joint Venture Partner. For more information about the Pathway Program, visit the Pathway website.