Peter Berry: Growing his Specsavers career
Change and growth are two words you could use to describe Peter Berry's career with
Specsavers. He first joined the business eight years ago as a Retail Performance Consultant,
and 2 and a half years later became a Regional Relationship Manager. He was then asked to
join our Audiology business as the Audiology Relationship Manager for NSW, where he's
worked for the past five years. And now Peter is about to embark on his next Specsavers
career journey, as he heads to Vancouver as a Retail Relationship Manager supporting our
Canadian Partners.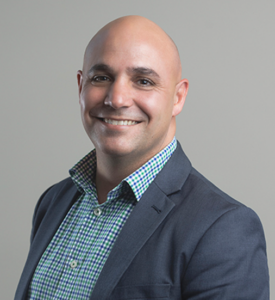 "My journey has certainly been exciting, and every new role has seen my knowledge and
capabilities grow," he says.
"Before I joined Specsavers, I was working in a well-paid, but ultimately, unfulfilling role. I
wasn't happy, my job didn't contribute to the world we live in, I wasn't the person that I
wanted to be, and I wasn't getting the best from myself, personally and professionally, as a
result," he says.
"Joining Specsavers and learning about our business and how to support our Partners and
our customers transformed my approach to work. My move into the Audiology team was
driven by a desire to be part of something special – changing the Audiology landscape and
improving access to affordable hearing care for all Australians. And I can't wait to be part of
the revolution in eyecare in Canada over the coming years as well."
Peter believes the key to his career success has been taking the time to find a role that
matched his values, where he could make positive contributions and where hard work was
rewarded with growth and opportunity.
"During my time with Specsavers, I've been lucky enough to participate in the Grow Our Own
program, which helped me develop my strategic thinking capabilities, and I've undertaken
other internal modules to try and fill in some gaps in my skillset. Some people focus on
building strengths, but I've always found that I prefer to work on the 'gaps' – there's always
something I can be working on," he says.
And while he likes to focus on the good, Peter is a realist. "Every job has its ups-and-downs,
and I've had moments like that across the last eight years too. In those moments I remind
myself of the purpose of our business is to help people, and the value that the role provides
to me in helping our partners deliver that service. It's easy to be patient, to keep focused on
self-development, keep working hard, and wait for the right opportunity, when you know
there's real benefit to so many people by helping the business grow.
"And if that's not enough, an old manager once told me 'No one turns up to work wanting to
do a crap job', and I remind myself of that regularly when frustrations arise," he says.
And, at the end of the day, it's his colleagues that make all the difference.
"There's no doubt that the best thing about working at Specsavers is the people, because
everyone just cares so much about delivering a great job for our Partners and our
customers."