Persistency pays off. Why Robert Goode never gave up
Tenacity. Courage. Self-belief. Robert Goode exhibits all these
wonderful traits and more. Joining Specsavers in 2015 as a
Warehouse Assistant, Robert has certainly paved the way to show
everyone how to just get in and give it a go.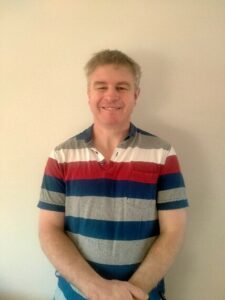 During his career journey with Specsavers, Robert expanded his skillset whilst in the
warehouse taking on added duties being the OH&S representative, first aid officer
and fire warden. Now a team leader in the Melbourne Distribution Centre, Robert
highlights how his tenacity and persistence has helped him grow his career with
Specsavers.
Robert says in his first year alone, he pitched an idea as part of the Specsavers Ideas
program, participated in a week's secondment to the Finance department and put his
hand up for the Specsavers New Talent Program.
Robert says in addition to looking at more formal avenues of training offered by the
business, he also worked hard to identify efficiencies within his own department. He
completed an OH&S course and a Certificate IV in warehousing and is currently
undertaking a graduate certificate in Supply Chain Management at RMIT, with the full
support of the business.
He says, "to me a successful career is one where you are encouraged to optimize all
your talents for the maximum benefit for your employer."
Robert has thrown himself into all the activities Specsavers offers its employees. He
joined the social club and organised a BBQ for the support office. Raising his profile
within the business and always coming forward with new ideas and ways to improve
operations has paid off in spades for Robert and has led to his current role as team
leader at Specsavers Melbourne Distribution Centre (MDC).
"My advice to people is that persistency pays off. If you think that your talents can be
better served in another area of the business, keep putting your name out there and
even if you aren't successful the first time, keep at it, keep developing your skills and
never give up."