Bringing a great culture to life
From working tirelessly supporting the teams at Specsavers, to finishing her degree, the past five years have been busy for Specsavers Senior HR Business Partner Jaselle Muscat, but she wouldn't have it any other way.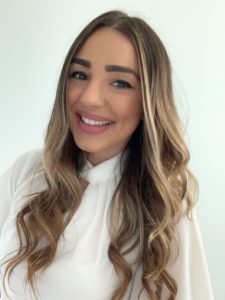 When Jaselle joined Specsavers, she says she was looking for "a forever home".
"I've been working in Human Resources for 10 years, starting as a Trainee HR Officer in an abattoir, which was very interesting and gave me the best possible foundation in the field. I was then promoted into an HR Officer role, I then left as I had a passion for Retail and started working for Kathmandu as a National HR Advisor supporting their stores from an Employment Relations and Recruitment perspective before joining Specsavers."
And, while Retail was her goal, Specsavers wasn't necessarily her destination at first.
"I actually applied to Specsavers through a blind ad, but the role and the culture resonated with me. I wanted to get into a role that allowed me to be more strategic in the way I worked and less reactive to employment relations matters. I also wanted to build my career in a company where I would be supported and given the freedom to grow. I remember meeting our HR Director on a Monday and completely fell in love with the business, I then was hired on the Friday and it was the greatest career decision I ever made," she says.
Since then, every day brings a challenge and an opportunity. One that she thoroughly relishes.
"My role involves supporting our retail teams within the support office and supporting our Partners in our stores. That could be anything from partnering with department leaders to help them lead their teams more effectively; developing HR plans to drive the local people agenda and execute against our global plans; using the HR strategy to scope project plans that are relevant to my business area or diagnosing and analysing issues within the business, providing objective challenges and engaging the appropriate centres of expertise to ensure resolution," she says.
"The most interesting aspect of my role is that every day is different, when you work with people you have to be ready to encounter anything really and be ready to deal with it at a moment's notice especially in times of ambiguity which we are currently facing."In addition to her busy role, over the past four years, Jaselle has also worked to complete her Master's in Human Resources.
"My manager supported me and enabled me to study part-time while working and in August I graduated, which was a huge achievement for me and in my role. I was the first person in my family to graduate from university which is something I'm very proud of," she says.
Jaselle says if there's one thing she wants people to know about working at Specsavers, it's the great culture the business has nurtured.
"I know people hear this a lot out there in the market but when I say the culture is like nothing I've ever experienced before I mean it. Specsavers is such a great place to make your mark in and I've been lucky to have found such a supportive and trusting team. I have no doubt I wouldn't have reached where I am today in my career if I didn't have the right people backing me up here at Specsavers," she says.
"I'm the type of person that isn't afraid of leaving an organisation if it doesn't allow me to be who I am or do the role I was meant to do and I've stayed here for more than five years now and not once have I had the feeling like it's time to go – I think that is a true reflection of our culture, the people and what we hope to achieve in our vision."
Jaselle says culture is a big question, that always comes up when she's conducting job interviews, and she always responds in the same way:
"I wake up every day to work with the wonderful people we have here at Specsavers. I feel like I'm working with my family and no matter what they support me and I support them in everything we do – there's this real feeling that we are in this together and I'm allowed the space to do my role and evolve it as time goes on. I've never experienced the Sunday night feeling of dread for Monday morning here at Specsavers and I think it just shows that I definitely found my home!"
Interested in a job just like Jaselle's? We're currently looking for a HR Business Partner.