From 'store land' to support office: Kim Gilmer's career journey
Kim first joined Specsavers 14 years ago as an optical assistant working in store.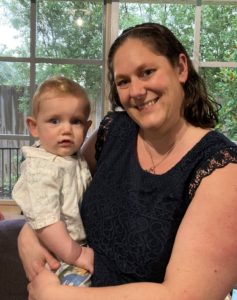 "I'd always worked in retail and worked in the hospitality industry before that, and I thought it was a great way to work in a new retail environment," she said.
Kim quickly advanced from optical assistant to the 'unofficial' second in charge at her store, working closely with the retail partner to learn all facets of the store environment.
"In the early days of the store, the retail partner worked across two businesses, so when they were absent, I was responsible for managing the retail floor," she says. "I experienced the store's expansion and growth and developed my experience working at all levels of customer service."
After seven years, Kim decided it was time for her next step.
"I felt like I had learned everything I could in that role, and I loved the customer aspect, but I was ready for more. I could have taken the direction of a retail partnership, but I decided that wasn't quite the right path for me. I knew I wanted to stay within the Specsavers family, so I looked for a new opportunity with the Specsavers support office."
Kim applied for the newly established role of Retail Customer Support Officer and joined the Specsavers Retail Operations team in the support office in Port Melbourne.
"It was a new role, and I was really encouraged to make it my own," she says. "I was responsible for maintaining our online customer feedback portal and making sure that the stores were replying to customer feedback and working with them to help resolve any customer complaints and provide support."
Kim says in the six years she was in the role it changed a lot, "I had different managers and the role shifted from a customer-focused role to more of a store support-focused role. I took over responsibility for some reporting elements and analytics and worked on several big store projects."
It was here that Kim developed her new passion for reporting and analytics – something her managers took note of. And when a new opportunity came up – while Kim was on maternity leave no less – she was encouraged to try something new.
"In my development conversations over the years, my manager could see that the analytics, reporting, and systems side of the business was where I could see my career going. So, when this role came up, even though I was on maternity leave, my manager brought it to my attention and encouraged me to apply."
Kim says applying for a new role in the midst of raising a newborn wasn't as daunting as it could have been.
"The team recruiting for the role we're really great – they appreciated I was on maternity leave and were flexible with interviews and not taking up too much of my time, and they were mindful that I had a young child and would need some flexibility when I came back to work."
And Kim was successful, starting her new role, Learning Analyst in the Retail Training and Development Team upon her return from maternity leave in January this year.
"I'm really enjoying the new role – I  love learning new things and having something new to sink my teeth into," she says.
"At the moment it's a lot of spreadsheets – I'm working on the rollout of a large project that will impact how we deliver training and development to the business, so I'm spending a lot of my time planning, testing, and scoping out aspects of the new system. But this is the kind of business where you are encouraged to make a role your own and take ownership of it. You don't get put in a box and told 'just do this there's a lot of freedom and flexibility to grow within your role."
And Kim says while making the transition from 'store land' to support office was challenging, she's never looked back.
"Funnily enough the biggest 'challenge' for me was the change in structure. The routine and structure that you have in store was gone and it was up to me to determine the tasks I was going to get done each day. It can also be overwhelming to go from a small store to an office where there are all these people – but the team really took me under their wing and made it an easy transition."
Kim says she encourages others from 'store land' to make the move to support office if they're looking to take the next step in their career.
"At Specsavers, they offer really great flexibility – whether that's start and finish times or the ability to work four days. Everyone's open to that and the people in the support office are fantastic – I've never come across anyone who isn't happy to help and support you."
"The office is quite a fun environment too – the business is really good about making a big deal of things – celebrating the wins and being transparent about what's going on throughout the business. They are really open and caring of all the employees and it makes it a really great place to work."