Bringing eye health to the public
Duchesne Markham has had a long professional relationship with Specsavers.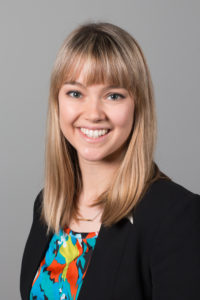 "It started almost 10 years ago when I got a job at Mango, a public relations agency in Auckland, New Zealand. Specsavers was one of my main clients and I had the privilege of working on some groundbreaking campaigns with them. After a couple of years, I moved to a completely different job in regional New Zealand, but was soon pulled back to Specsavers which saw me making the move to Melbourne in 2016."
Upon her move, Duchesne joined Specsavers' public relations team, leading the local media program which soon transitioned into the national eye health program and the Specsavers Community Program. But recently she was promoted to the role of Stakeholder and Professional Communications Manager for Australia and New Zealand.
"In this role, I'm part of the Professional Communications team and my role is focused on building relationships that make Specsavers invaluable to the eyecare industry through initiatives that drive positive health outcomes for patients, and demonstrating the value of optometry and audiology services in the ANZ public health environments through the sharing of Specsavers data in a meaningful context. I call it a dream job," she says.
With a natural skill set for storytelling and relationship building, Duchesne says she is drawn to working on projects and businesses that make a positive difference in the world.
"At Specsavers, I've really been able to work within my passions and develop my skills. I've also been stretched to build new skills and credit this largely to some amazing managers who have given me opportunities that have expanded my abilities. I'm constantly learning every day and there's so much still that I want to grasp," she says.
She says while moving countries for work was daunting, Specsavers is a company that truly aligns with her values and passions.
"I believe that everyone should have access to the best quality eye care and eyewear, and I loved how Specsavers is unashamedly and genuinely determined to positively transform the eye health industry in Australia and New Zealand. And that was what I thought before we launched audiology and started changing the story for those with hearing loss on top of all of that! Turning up to work each day and contributing to ambitions like ending avoidable vision loss is what makes me passionate about my job," she says.
She's also really impressed by Specsavers' ongoing commitment to her development.
"Before working at Specsavers, I'd never really put too much thought into professional development. I just worked where I enjoyed and followed my nose to new opportunities that looked like they'd be up my alley. In the past four years, the Learning and Development Team and my managers at Specsavers have really mentored me into developing a long-term idea for what I want to achieve with my career over the next two, five, 10, and 15 years. I have a Professional Development Plan and am really excited that most of the work I do at Specsavers is building my skills and experience toward a long-term goal."
An average day for Duchesne is a perfect blend of people, words, and numbers.
"It's a real mix of video calls, writing, and planning. I also spend time with our optometry team analyzing data. I find our eye health data and insights fascinating. Not many people know, but at Specsavers, we have access to one of the largest eye health datasets in the world. We're uncovering information about eye health that has never been realised before. It is phenomenal to think that such world-leading data is coming from our little corner of the world."
She also says one of the best aspects of her role is the people.
"The great thing about Specsavers is that everyone is genuinely friendly and happy to help if you need it. The organisation is also open to new ideas and creativity, no matter what level of seniority you are. Since I've been there, on top of my normal work, I've sold in a couple of big ideas and have seen them implemented across both countries. I've also worked on others that haven't come to fruition – yet… But no matter what, if you are willing to put in the work, your ideas will be considered and given a fair trial. That's pretty amazing."