Taking her love of numbers to new heights
Sarah Holden loves numbers – and a spreadsheet.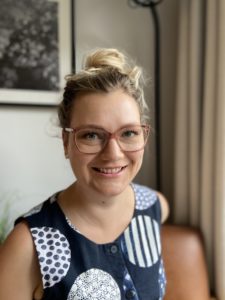 A chartered accountant by trade, she started her career at Deloitte, before quickly discovering she wasn't the "traditional accountant" that lived and breathed tax returns and financial reports.
After moving to London and spending seven years working in finance roles across marketing and advertising businesses, she returned to Australia and worked across a few different sectors before a backyard barbecue turned her career in a new direction.
"I was at an event and ran into a former colleague from Deloitte who was working at Specsavers. She was the one that suggested I'd be perfect in the Business Development team," she says.
And that's how her Specsavers journey began.
"What I love about my role as a Business Development Manager at Specsavers is that my days are so varied and different. I still get to use my financial skills, but I also spend a lot of my time working with our partners and our teams in each state and territory to develop strategies for the region to grow sales whether that be by increasing capacity in existing stores, opening new stores, or updating the look and feel of existing stores to improve the customer experience."
Sarah says business development is different from similarly titled roles in other companies. "It's not a role that purely focuses on sales, which is what you'd usually expect in traditional business development," she says.
"Instead I work closely with our partners to understand their future growth requirements, and ensure their store environment is set up to capitalise on that future growth."
Sarah says it was this diversity that attracted her to the role, along with the great team culture and environment.
"I love problem-solving and I'm a real people person, so this role brings all those skills together. I also loved LEGO as a kid and my dad is a tradie, so I also really enjoy all things construction. In this role, I get to work closely with our store design team on new floorplans or expansion plans, so it really is a mix of all my favourite things in one place."
Sarah says she also thoroughly enjoys the pace at Specsavers.
"Everyone is aligned to the same goal and we want to get there quickly. Our leadership is really engaged with our growth plans, and Specsavers has a flat structure so I could be working directly with the Managing Director one moment and then with a project coordinator the next. It means we can get things moving and really make an impact for our partners and for our customers."
In 2019 alone, Sarah and the business development team opened 20 new stores.
"It was a big accomplishment – especially as some were challenging locations. I had to think outside the square and approach the situation differently for each store. This is where my background in finance really helps – because I understand how different scenarios will affect the P&L and write a business case based on the requirements of each situation."
But for Sarah, it all comes down to the people.
"The BD team is like a family. It's sound cliché but it's true. We've become even closer during COVID because of the ups and downs we've been through, but we're never too busy to look out for each other, celebrate the wins, or jump in and support each other if someone's feeling overwhelmed.
"Every business gives you the sales pitch when you're in the interview stage, but I genuinely believe that Specsavers live up to the promise. I can hand on heart say I want to work here for a long time, and I know there is plenty of opportunity for growth and advancement."