Supporting our partners – the role of an ARM
As an audiology relationship manager (ARM), Peter Berry spends his days supporting our audiology partners and helping them grow their businesses.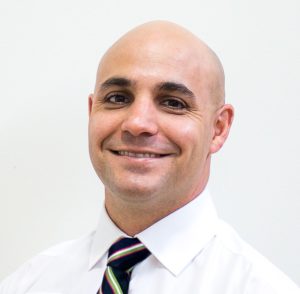 "My role is really about helping customer-focused, like-minded audiology professionals set up their own business, where they can take control of their future and be a positive change in the industry," he says.
Peter first joined Specsavers more than six years ago, as a performance consultant within the optical business. In early 2017, after a successful tenure within the optical side of the business, Peter made the jump to audiology as a relationship manager.
"To help set up this new audiology business and to be able to make a positive contribution to an industry that was desperately in need of change, it really was an amazing opportunity."
So, what does a day in the life of an audiology relationship manager look like?
"My role is really multifaceted. It's about helping candidates that are interested in joining our business to understand what being an audiology partner entails, introducing them to the business opportunity, providing them with the information that they need from a financial and legal position so that they can complete their due diligence, as well as being there with them to get their business underway.
"The other side of it is to provide ongoing support to our audiology partners, to help them be more effective from both a retail and business perspective. That could include helping them to build stronger relationships with their optical partners and their teams, to finding new ways to grow their business and see more customers."
Peter sees his role as a personal 'business coach' providing support, encouragement, and a sounding board for his partners.
"In a typical retail or corporate workspace, there are managers that will tell you what you need to do and then you're expected to do it. But at Specsavers, the business belongs to the partner, so the day-to-day operational decisions are theirs. It's up to them as to how they want to run their business at a local level.
"My role is a coaching role, to help fill in the blanks of how things work, and to make suggestions to improve what they are doing. My partners are able to implement and action ideas that they think will work for them and their business. That's the luxury of owning your own business – you get to make decisions."
He says Specsavers Audiology has been so successful because of the reputation the Specsavers brand has for trust and value.
"We have customers walking through the door every day because they trust the brand and they trust our expertise. So, there isn't that need like in other new businesses to worry about where the customers will come from – the focus can be on providing the best clinical experience and solving the customer's hearing problem."
He says unlike other business opportunities, Specsavers provides its audiology partners with the tools they need to help set up their business and the ongoing support to help them hit the ground running.
"The thing I enjoy most about my role is helping first time partners get underway in their business. I'm focused on their success. No one has every skill they need at the start of the journey, but if they have the passion and determination, then I can help them fill any gaps in the commercial or business side and help them to grow their business."