The team opening Specsavers new Distribution Centre
Specsavers recently celebrated the official opening of the new Melbourne Distribution Centre at Bertie Street, Port Melbourne. The new Distribution Centre changes the way we fulfil our online contact lens orders for customers in Australia and New Zealand!
The move from the Singapore site to Bertie Street will dramatically improve lead times to our customers and provide them with a fully tracked service giving today's consumers clarity on their individual order, further enhancing our strategic drive to generate a greater customer experience.
Members of th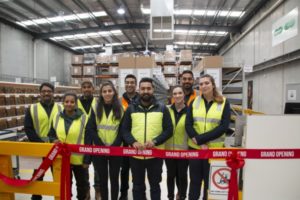 e ANZ Leadership Team and team from The G joined in on the celebrations on Monday morning, visiting the site hosted by Ian Lindsey, Head of Manufacturing Asia Pacific and the Distribution Centre team. The group were also taken on a tour of the site and talked through each step of the process from receiving the order through to dispatch.
The Distribution Centre will be home to circa 14 team members once the migration of orders is complete and holds significant on-site inventory to ensure we can provide an unparalleled service in both Australia and New Zealand.
A huge thank you to the team at Lion who have provided an incredible service across the region alongside everyone who has played a part over the past 9 months to get this project off the ground. Together we are creating an even better experience for our customers across Australia and New Zealand.